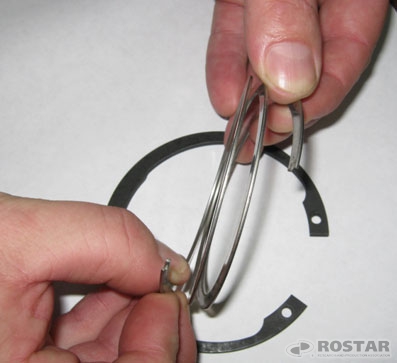 Ламельное стопорное кольцо
To provide consumers with the most reliable and safe products, ROSTAR Research-and-Production Association is constantly improving its product line.

As an example, the drivers of truck liners often encounter issues with a torque rod lock ring. A standard lock ring often accidentally breaks away if there is a problem with axle load. Needless to say, the outcome of this accident can be horrible. To avoid such accidents, ROSTAR started manufacturing torque rods with lamellar lock rings. The lamellar lock rings are best described as a three-loop spiral made out of a flat steel band. In comparison with traditional lock rings, the lamellar rings do not discouple which provides almost a 100% guarantee from breaking away. The guaranteed period of this lock ring is equal to the life of the torque rod. The torque rods with lamellar lock rings ROSTAR are already being used in the secondary market.