Laboratory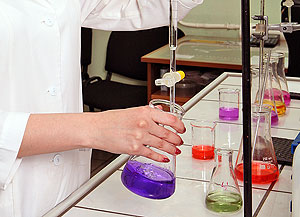 ROSTAR laboratory scope is material analysis and testing. Our conclusions are precise and reliable and their reliability is confirmed with relevant Russian State accreditation.
The list of tests we perform:
Complete steel and cast iron metallographic analysis:

Hardness analysis (according to Rockwell, Brinnel or Vickers methods);
Macrostructural analysis;
Microstructural analysis.

Chemical content analysis of:

structural carbon steels;
medium alloy steels;
tool steels (Ð6Ì5, Ð18, Ð6Ì5Ê5, Õ12Ì, Ó8, Ó10);

Plating bath content analysis using

Titration method:

Identification of sodium hydrate , sodium carbonate and sodium phosphate in cleaner;
Etching solution analysis (chlorohydric and sulfuric acids concentration determination);
Molybdenum disulphide content determination in rubber compounds and products.

potentiometric method of measurement:

Water hardness, electroconductivity, pH analysis.