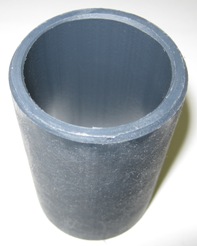 The letters received in October by the Gruzovoz newspaper impressed us with the vigilance of our readers. At the auto markets of Naberezhnye Chelny several drivers independently discovered counterfeit eye bushings similar to the ones produced by ROSTAR Research-and-Production Association - 5320-2902028-10.
Even with the naked eye one can see that the counterfeit is made from a piece of polypropylene pipe with coarsely carved edges (see image above); moreover it is noticeably lighter than the original.
As was pointed out by the producer's experts, the original eye bushing 5320-2902028-10 ROSTAR has a polished surface without any additional machining. It should be packed (two units per package) in a proprietary bag bearing the trademark of ROSTAR. The bag is sealed with a tab having the logo of ROSTAR and a glued on label showing the product's name, serial number, applicability, the number of units per package, and manufacture date.
Thanks goes to the vigilant readers of our newspaper; and to the drivers - a safe ride that is ensured by the authentic auto parts from ROSTAR.