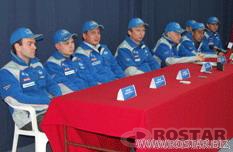 While presenting Sergei Mikhailovich Klyuchnikov, the Director General of ROSTAR Research-and-Production Association, as the new official sponsor, the head of the KAMAZ-master team Semen Yakubov said the torque rods - fitted on the racing trucks KamAZ - were manufactured at that company. This rod has passed the test of racing. "Many years we use this spare part in our KAMAZ trucks. And we never experienced any problems. Before that we used two torque rods manufactured by this company, but now we use all four and we know that we can trust ROSTAR", said Semen Yakubov.

He also spoke about difficult times in connection with the cancellation of rally Paris-Dakar and expressed his gratitude to ROSTAR, regarding the fact that the company was consistent in its partnership with KAMAZ-master and, therefore, helped in keeping the team stable.

By the way, this year the racers from Naberezhnye Chelny once again will prove their superiority at rallies Transoriental, Desert Challenge and Route-1000. Sergey Klyuchnikov expressed his willingness to go to the finish line of the latter rally. This is how he explained his decision:

- The importance of the KAMAZ-master team in rally sport is undeniable. The team persistence, morale, commitment and desire to be the winners and the strong will, to prove to the world that Russia is a strong country, are all strong qualities that inspire respect. I wish that they have only victories ahead of them. We believe that the spare parts produced by our company will help them in achieving their goals. Considering the fact that design engineers of KAMAZ increasingly improve their racing trucks, we also do not stand still and are already mastering a variety of new spare parts, including parts for the trucks manufactured abroad. The KAMAZ-master team has a lot of potential to grow. Having had many winnings so far, they continue moving forward. This is who we want to partner with and move forward together".

The new bumper logo on the rally trucks testifies to the newly added sponsor. We hope that our support will help the KAMAZ-master team to be top notch once again.