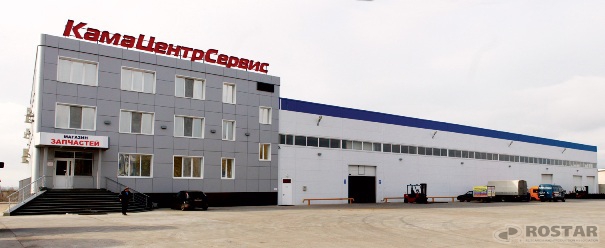 "The main advantage of ROSTAR products is high quality and competitive prices", said Sergey Syatkin, Director of TD KamaCentrService. Both ensure consumers' trust and positively affect the sales.

- Our center has been in business since 2003. The name of the center has a reason - we are based on the river Kama, the rest of the name speaks for itself - center and service, says Sergey Syatkin. - The company was planned as a sales-service center and an auto shop for vehicles. Hence, the name is TD KamaCenterService.
I am pleased to say that our young company is already well known out of the Republic of Tatarstan - we work with most Russian districts. We have built trustworthy relations with our long-term partners. We value our name and our proven work record.
It is also necessary to mention our convenient location - national highway M-7. The center has a retail store that offers a wide variety of product - around 6000 different kinds of spare parts. The customers that come to us - often leave with a purchase.
What is our advantage? It is in our ability to offer reliable high-quality spare parts. We receive our products directly from our subdealer OJSC KAMAZ Trading Company. We are also dealers of NefAZ and many other companies.
Recently we became the official dealers of ROSTAR, the company that manufactures reliable and high-demand products. We consider it a privilege to represent their product. Although there is a good number of existing dealers in our region, it was decided to add TD KamaCentrService to the list.
We started off with smaller quantities but in just two-three months the sales grew. The spare parts from ROSTAR are very reliable and sellable. In addition, they can practically be used on all models of KAMAZ vehicles.
Currently we are also working a lot with ROSTAR spare parts, designed for foreign vehicles. It is important to mention that ROSTAR has a wide variety of product; we constantly educate our employees on ROSTAR products and expand our product collection.
Several companies were already inquiring about our sales as soon as we became official dealers of ROSTAR Research-and-Production Association. Before that, those companies had to look for necessary spare parts at market places or at supplier offices - hard to say where either got ROSTAR parts from. Our customers can be sure that what they are buying from us is fully manufactured by ROSTAR, it can be easily seen just from the packaging. On our side, we launched an active ad campaign for ROSTAR spare parts: in newspapers, on-line and road banners.
The main advantage of ROSTAR spare parts - high quality and competitive prices. Lastly, of course, the trust of the consumers - all of the above positively affect good sales. We also share with managers at ROSTAR our recommendations on sales and new product demands from customers. We make sure to follow the market and make suggestions on the current market situation as we see it. In other words, we have a close relationship with ROSTAR and hope for an effective and mutually beneficial partnership.